There may never be a better time to list your Greenwich home.
Greenwich isn't just a seller's market right now; it is breaking records. August 2020 witnessed the sale of 108 single-family homes- August hasn't had that many closings in 19 years. September 2020 had even more sales-118. No September in the 21st century has come close to that number of sales- the second highest was 72 in 2000.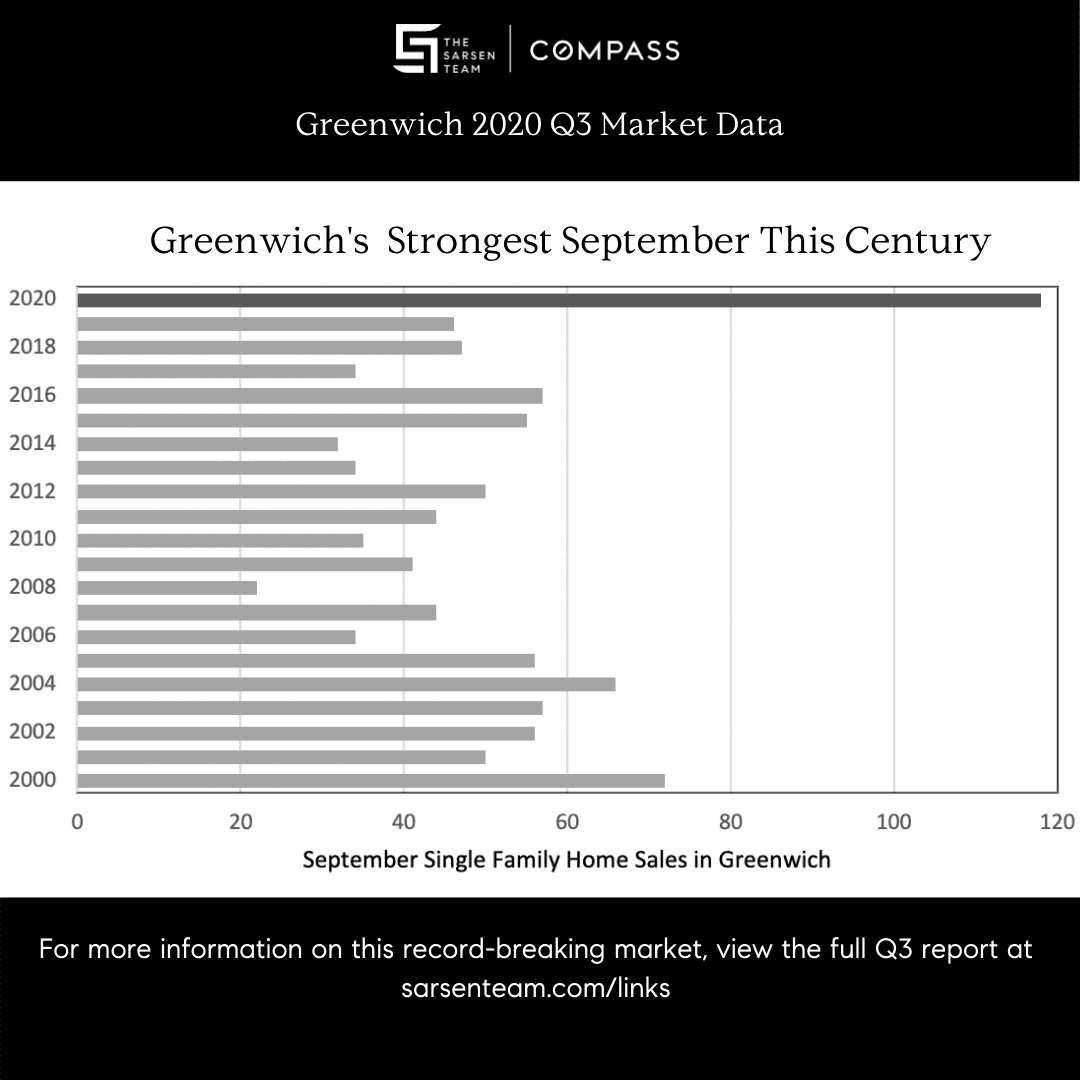 In Q3, every neighborhood posted increases in single-family home sales YTD compared with 2019:
-All of Greenwich (+41.2%)
​​​​​​​-Back Country (+74.4%)
​​​​​​​-Mid Country (+59.8%)​​​​​​​
​​​​​​​-South of the Post Road (+22.5%)
​​​​​​​-Riverside (+50.8%)
​​​​​​​-Old Greenwich (+26%)
​​​​​​​-Cos Cob (+61.8%)
​​​​​​​

It's no surprise that Back Country Greenwich, which tends to have larger properties, posted the biggest increase. Buyers from heavily populated areas like New York City are moving to the suburbs and looking for more space. 
September 1-18, 2020 Property Transfers:
143 Overlook Drive from Bargara and Gerhard Gnaedig to Jolly Ieuan and Walia Priya on Sept 1, 2020 for $2,275,000

50 Wesskum Wood Road from Michael and George Pylyp to Steven and Lisa Van Der Voort on Sept 1, 2020 for $2,150,000

75 Byram Shore Road from Lynn Zimmer to Stanley Rumbough on Sept 2, 2020 for $12,000,000

136 Shore Rd from Kathleen Riley to Andrew and Shushiela Starr on Sept 2, 2020 for $2,256,250

399 Davis Ave from John Goulemas to Barbara and Fred Sojka on Sept 2, 2020 for $1,490,000

18 Benenson Drive from Nectar Munro to David Shapiro and Joanna Miller on Sept 2, 2020 for $1,652,500

11 Simmons Lane from Core Home Meadlow LLC to Vivmee Shelter LLC on Sept 2, 2020 for $8,550,000

1 Benjamin Street from Gregory Vadasdi to Brett and Michael Weiss on Sept 2, 2020 for $1,685,000

86 Lower Cross Road from Mark and Jody Sattler to Jennifer Reid and Brendan Silhan on Sept 2, 2020 for $2,185,000

6 Lauder Way from Mark Reichenbaum to EACA LLC on Sept 2, 2020 for $9,750,000

57 Shore Road from Cascade Funding Alternative to Forestgreen Holdings LLC on Sept 2, 2020 for $1,001,000

1 McPherson Drive from Deborah and Charles Royce to Peter and Rachel Goulding on Sept 2, 2020 for $3,550,000

55 Orchard Drive from Howard and Rita Fine to Karen and Frederick Henderson on Sept 2, 2020 for $3,530,000

24 Sheephill Rd from Christine Fontana to Grant Wissak and Bonnie Glasser on Sept 2, 2020 for $775,000

134 Otter Rock Drive from Michael and Mary Carpenter to Magali and Matthew Swanson on Sept 3, 2020 for $6,250,000

118 Bowman Drive from Elisa Marmo to Leoni Igel and Catherine Igel on Sept 3, 2020 for $1,685,000

139 Lake from Lisa Avery and Van Der Voort Scovotti to Tyler Harris and Matteo Dowd Tinari on Sept 3, 2020 for $1,180,000

491 Riversville Rd from Ariel Aisiks and Margot Aisiks to 491 Riversville Road Estate Trust on Sept 4, 2020 for $2,080,000

21 Benenson Drive from Claire and Kirk Lehneis to 21 Benenson LLC on Sept 4, 2020 for $2,900,000

23 Meadowbank Rd from Katherine and John Enquist to Frank and Kala Fillman on Sept 4, 2020 for $2,550,000

1110 Lake Ave from Michael and Virginia Parker to Oren and Meredith Iasacoff on Sept 8, 2020 for $1,875,000

68 Orchard Street from Sarah Jessen to Jennifer Mai Fry on Sept 8, 2020 for $780,000

23 Meeting House Road from Seven Oaks Partners LP to Old Slip Capital Management Limited on Sept 8, 2020 for $1,050,000

57 Richland Road from Helen Fox to David Barton on Sept 8, 2020 for $520,000

78 Zaccheus Mead Lane from Walter Raquet to Kettle Hill Zaccheus Mead LLC on Sept 9, 2020 for $6,170,000

123 Doubling Rd from 123 Doubling Road LLC to Stacey Sears on Sept 9, 2020 for $5,250,000

26 Caroline Place from William and Celia Elam to Brianna and Ryan Kelleher on Sept 9, 2020 for $1,500,000

180 Stanwich Rd from East of North LLC to 110 Park Avenue Holdings LLC on Sept 9, 2020 for $6,050,000

2 Maher Court from Julie Trent to David Wyot Woods on Sept 9, 2020 for $2,220,000

14 William Street from 14 William Street LLC to Byram Propeties LLC on Sept 9, 2020 for $287,500

45 Gold Street from John Kurdziel to John and Elizabeth Karipides on Sept 9, 2020 for $515,000

1 Lismore Lane from David Cunniffe to Esther Beilenson on Sept 10, 2020 for $2,850,000

3 Khakum Wood Rd from 3 Khakum Wood Acquisitions LLC to Karen and Timothy Bunnell on Sept 11, 2020 for $4,200,000

64 Lockwood Ave from Per and Susan Tetzlaff to Danese Joiner-Fox and Joshua Fox on Sept 11, 2020 for $2,660,000

5 MacArthur Drive from James Rosoff and Julia Finkelstein to Andreza and Clark Ainsworth on Sept 11, 2020 for $1,150,000

38 Oval Ave from Martin and Patricia Fleming to Lindsay Koenig on Sept 14, 2020 for $1,305,000

360 Cognewaugh Rd from John and Colleen Wood to Ronald Kim and Galit Hershkovich-Kim on Sept 14, 2020 for $990,000

10 Indian Chase Drive from Jennifer Shaw to William and Olivia Fleming o Sept 14, 2020 for $3,230,000

13 Martin Dale from Michael and Julie Petrizzo to Suzanne an dGary Stein on Sept 14, 2020 for $3,100,000

498 Lake Ave from 498 Lake LLC to Woods Family Trust on Sept 14, 2020 for $6,800,000

130 Lower Cross Rd from Lisa Matthews to Debra and Raymond Kahn on Sept 15, 2020 for $2,520,000

651 River Road from 651 River Road LLC to Holly and Blair Greenberg on Sept 15, 2020 for $3,075,000

15 Edgewood Drive from Stephanie and Samir Chawla to Stacy Shapiro and Sarah Krauss on Sept 15, 2020 for $1,925,000

556 Riversville Rd from Afteron Fraser to Merrimack Trust on Sept 15, 2020 for $3,705,000

251 Byram Rd from Carissa Ronish to Jennifer and Danilo Sereni on Sept 15, 2020 for $590,000

450 Valley Road from Michael and Deborah Beloff to Chloe Angotta on Sept 16, 2020 for $680,000

6 Perkely Lane from Brooke Rice McClure to Matthew and Holly Harlow on Sept 16, 2020 for $3,695,000

43 Druid Lane from Howard Truss to Ricardo Diaz Gonzalez on Sept 16, 2020 for $1,650,000

27 Juniper Lane from John and Margaret Baxter to Tristan and Syndy Margot on Sept 16, 2020 for $1,103,704

23 Stuart Drive from Dorothy Slutz to Marianne Poricelli on Sept 16, 2020 for $780,000

15 Glen Rd from William and Carol Schnaer to Erick and Mary Muse on Sept 16, 2020 for $1,200,000

88 Indian Harbor Drive from Nancy Steinegger to Susan Voll-Auturi and Perrin Arturi on Sept 16, 2020 for $2,150,000

46 Will Merry Lane from Dorella and Robert Madeira to Mariella and Marek Krowka on Sept 17, 2020 for $2,100,000

40 Otter Rock Drive from David Gittings to Robert Gould and Alexis Gevanter on Sept 17, 2020 for $6,700,000

7 Highgate Rd from George and Kerry Dangelo to Margaret and John Baxter on Sept 17, 2020 for $2,400,000

10 Andrews Rd from Karen Morstad and Mark Goldbert to Rita and Evan Linkner on Sept 17, 2020 for $3,850,000

460 North Street sold from North Court LLC to 421 Broome St LLC on Sept 18, 2020 for $10,000,000

​​​​​​​49 Lockwood Lane from Guillermo Gomez and Valeria Pollack to Julia Finkelstein and James Rosoff on Sept 18, 2020 for $2,135,000